World
Finland PM party viral video shocks all; denies 'doing drugs' in alleged rave party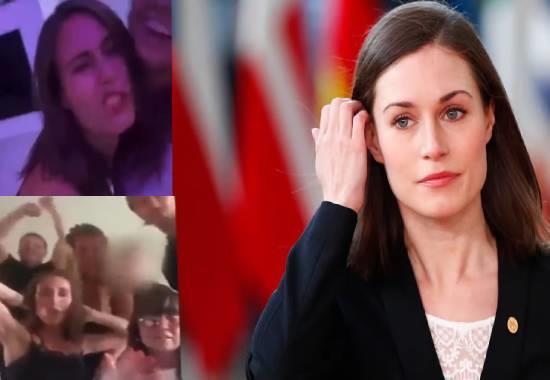 Sana Marin leaked party video has shocked the entire Europe and the world after the Finland PM was seen partying with her groups of friends and famous personalities of the country. Finland PM Sana Marin private party video has sparked a massive row in the country with leaders and people asking her to take a drug test. Finland PM Sana Marin leaked viral video is spreading like a wild fire and has also raised eyebrows of many people and politicians around the world.
In the Sana Marin leaked party video, the Finland PM can be seen wearing black spaghetti top and partying hard with her friends and famous personalities. As per the Finnish media, in the Sana Marin leaked video, the Finland PM can be seen enjoying and dancing with MP Ilmari Nurminen, media anchor Tinni Wikström and more. Although partying is not a crime, but people screaming for cocaine (drugs) in the Sana Marin viral video has irked controversy.
After the video went viral, Sana Marin on Thursday addressed a press conference and refuted claims that she also did drugs. Furthermore, the Finland PM also slammed the person who leaked her private party video.
"I have danced, sung, celebrated, done legal things," the prime minister said. Marin added that she was not drinking heavily. Slamming the leaker she said, "I trusted that since the videos are private and published at a private event, they would not be published," Marin said. "It feels bad that they have been published."
It is pertinent to mention here that it is not the first time Marin has come under the scanner of social media. In December last year, she came under fire for having a night out shortly after a government colleague tested positive for coronavirus.
Notably, UK PM Boris Johnson had to tender his resignation after his party gate scandal came to light.
Watch Sana Marin party viral video
Finland PM Sana Marin 'parties hard' with Finnish rapper Petri Nygard & more in leaked private party video
Finlandiya Başbakanı Sanna Marin'e tepkiler çok yoğun.
Başbakan olmamış, düşkün. Hayatını yaşasın, serden geçsin, öyle gelsin. Koca devlet yönetecek. Milyonların kaderini etkileyecek. Böyle olmaz.
Kızım sana söylüyorum. Bizimkiler siz anlayın.pic.twitter.com/KnH7vopHNH
— Cahit Uysal – Cumhuriyet MKA (@Cahituyy) August 18, 2022